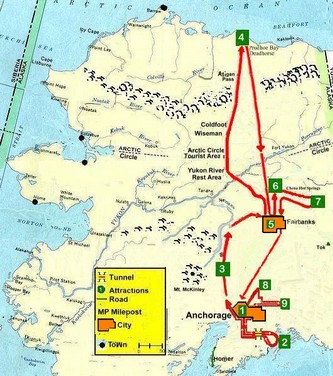 Welcome to the interactive Alaska Adventure Project. Activities are designed to enrich the science and social studies curriculum through real-life experiences. Be prepared to select one of the ten special projects for your research study in the fall.
Alaskan Attractions Key
1=Anchorage
2=Whittier Tidewater Glacier
3=Denali Park
4=Deadhorse/Prudhoe Bay
5=Fairbanks
6=Eldorado Gold Mine
7=Chena Hot Springs, Ice House, Dog Sled Kennels, Chena Power
8=Hatcher's Pass
9=Matanuska Valley Glacier
My Journal
Tuesday July 6
I arrived in Anchorage in bright sunshine at 9 p.m. I am staying at a Bed and Breakfast place right outside of town. I took a taxi to the home. The lady taxi driver was also a photographer. She would be interested in keeping in touch with us during the winter through the Internet.
Wednesday July 7
It is 4:00 a.m. and light outside. Because of the time difference, I am up and ready to go. First activity will be a train trip down to the Kenai area and a trip through glaciers. What an experience. I have pictures posted. Even though it was pouring rain along the coast, glaciers were a great site. The salmon in this region is great.
Thursday July 8
Today was spent on another train going from Anchorage north to Mount McKinley. This two hundred mile trip took most of the day. The train was a lot nicer with the best meals. The pancakes were great. I arrived at the Wilderness Lodge in Denali. There are many tourists here but the prices do not seem that unreasonable.
I went on an evening Whitewater Raft trip down the Nenana River near Mt. McKinley. This river flows north. The class three and four whitewater were tricky to navigate. I saw beautiful scenery. Unfortunately, I could not take pictures. The camera would be wet and I needed to hold on to the raft anyway. The water temperature was 36 degrees. I wore a dry suite which was impossible to get on. I did not get back to my hotel room until after midnight, but the sun was still shining.
Friday July 9
I stayed in the Wilderness Lodge Village. After lunch, I took an eight seater plane and flew around Mt. McKinley. It was a clear day and was absolutely beautiful. I left on the four o'clock train heading toward Fairbanks. I saw a lot of beautiful scenery. I arrived at Fairbanks at ten and took a cab to a Super Eight Motel.
Saturday July 10
I went on a fifteen hour journey to the Arctic Ocean. The van picked me up right at my hotel at six in the morning. Traveling the Dalton Highway with seven other people and Joe, our driver was a lot of fun. We stopped in some interesting places and met some interesting people. We waited thirty minutes for construction workers to open the road during twenty miles of construction. While crossing the Arctic Circle we saw famous landmarks. We eat lunch at the Coldfoot Truckers Cafe where we got to socialize with the truckers, some of which were on the Ice Road Truckers television show. We saw a brown bear off the road. Seeing rain and possible sleet in the mountains in July made for a very muddy experience.
Sunday July 11
Spending the day touring all the oil fields involved passing a lot of security checkpoints. I met with Bill, the owner of the hotel. He showed me around, fed me, and will be contacting students in the fall. I slept in the rooms reserved for the oil workers.
In the evening is when things got interesting. ERA airlines changed the flight going to Barrow so it left at one in the afternoon. They failed to tell the three passengers that had confirmed flights for 4:30 p.m. The next flight out was not until Monday evening which would change all my flight plans for the rest of the trip. There are no refunds on any of my hotel reservations either.
I decided to arrive in Fairbanks a day early and give up seeing Barrow. The last flight out to Anchorage and a Fairbanks connection was my only choice. I flew first class to Anchorage and then switched to a Turbo Prop plane going to Fairbanks. I arrived at the Princess Hotel at ten in the evening.
Monday, July 12
I toured the greater Fairbanks area. Everywhere I went, there were outlets that looked like parking meters. They were designed so drivers could plug in their car during the cold winter. I ended up going to the Eldorado Gold Mine. It was a real working gold mine where you could pan for gold and keep what you found. I ended up getting four grains of gold worth about twenty dollars I got a locket for Debbie where you could put the gold shavings. I met a good country singer and fiddle player who acted as the host for this tour. He said he would visit our school and give us a free assembly.
Tuesday, July 13
The Bakers were two teachers who gave me a great home to relax in for two days. Their house was five miles from a little village called "Fox". This community is right near the gold mine, thirty miles north of Fairbanks. Most of the roads are gravel in this area. Learning about some eskimo heritage was my agenda for today. I eat whale blubbler called "muktuk". It was really good.
I went to Chena Hot Springs. It was a ninety minute drive from Fox, just down the road. There was a beautiful hot spring lake with waterfalls. I spent the rest of the day with other activities. Chena is a place where they take the thermal energy and convert it into electricity. They grow their own vegetables in a greenhouse for no cost whatsoever. The homemade salad was very good. I went in the famous ice house. This building was a museum full of ice sculpures including an ice chess set. You could even sleep in the house for six hundred dollars a night. Iditorod dog kennel with over 100 dogs was my afternoon tour. I got to meet all the dogs and see puppies that were groomed for the race. I was given a tour by a real musher who had some interesting stories. I flew into Anchorage on the 10 p.m. flight.
Wednesday, July 14
I stayed at a hotel suite in Anchorage with a hot tub. They ran out of regular rooms. I spent today traveling north and east of Anchorage to see glaciers.
I started by going into Wasilla and driving up to Hatcher's pass which was close to 5000 feet in elevation. I was told by some locals that this was a great thing to see if I was in the area. The cliffs were huge and the scenery was beautiful.
I went southeast on the Alaskan Highway to Milepost 102.5 to visit a valley glacier. There was an unadvertised spot where you could actually walk on the glacier. Private individuals own land between the road and the glacier and they charge to twenty dollars to access the road. After going down a drive on top of a cliff without guard rails and signing a release, I was ready to go. All that was needed would be another three mile drive and a thirty minute walk over a mountain to get to the glacier. Once on the glacier, I got stuck in some quicksand and had trouble getting up a slippery ice hill. It was the highlight of my trip.
Thursday, July 15
Today was spent going into the city of Anchorage. I went to the Fifth Avenue Mall to get presents for all of my family. I met a fur coat maker who buys skins from trappers and can make a coat in less than twenty-four hours. I got sample scraps of different firs he created. Today, is my last day in Anchorage. I am flying home on an 8 pm flight.
Friday, July 16
I was flying on United Airlines. The flight went directly from Anchorage to Chicago. It was a six hour flight with three hours added on. We arrived at O'Hare at 5 a.m. The plane was completely full and the air conditioning was not working. This was a very long night.
I had forty-five minutes to connect to another United flight to Philadelphia. The gate was a fifteen minute run for me in the airport. I got to the gate right when they started boarding. The flight to Philadelphia was uneventful as well as the Septa trip to 30th Steet Station and the Amtrak train to Lancaster. I arrived home about noon and went to bed.
The Alaska Pipeline is over 800 miles long.

Glacier silt is dangerous because it acts like quicksand.

Ulu is a eskimo woman's knife.

On June 21, the sun never sets in Deadhorse.

Valdez is te farthest north port free of ice.

42% of the people in Alaska live in Anchorage.

The Parks Highway was named after George A. Parks, the Territorial Governor of Alaska in 1925.

The Dalton Highway has the greatest mileage between rest stops of any road in the United States.

The oil pipline is 24 inches in diameter.

Salmon is the most common fish in Alaska.

The Dalton Highway is 414 miles long.



Prudhoe Bay and Deadhorse are in the same place.

Coldfoot claims to have the lowest North American temperature at -82 F

The official low of -81 was recorded in the Yukon.

The Matanuska Glacier is 27 miles long and 4 miles wide.

Joy, Alaska and the Arctic Trading Post are the same place.

Oil travels at 3.7 mph through the pipeline.

In 1867, the United States bought Alaska from Russia for 7.2 million dollars.

Calving is when part of a glacier falls into the sea to form icebergs.

A sluice box is a long tube used to separate gold from gravel and rocks.

The Atigun Pass at 4643 feet above sea level is the highest point on the Dalton Highway.

The Matanuska Glacier is the largest glacier in the United States accessible by road.

Mount McKinley is 20,320 feet above sea level.

Denali is another name for Mount McKinley.

The Dalton Highway is the only road that crosses the Yukon River.

In Fairbanks, people plug in their car in the winter so it starts in the cold.

The Alaska Railroad runs from the southern coast to Fairbanks daily.

It takes 80 minutes to fly from Deadhorse to Anchorage.

Gravel roads are sprayed with calcium carbonate to eliminate the dust and make them solid.

It is possible to go to Alaska by cruise ship from Washington.

Alaska became a state in 1959.

The Chena Ice house is kept at 20 F.

The time in Fairbanks is four hours earlier than the time in Philadelphia.

A 2 1/2 mile train/car tunnel connects the Kenai region with Anchorage.

Anchorage receives 19.5 hours of daylight on June 21.

Officials are considering a road from Nome to Fairbanks.

Buildings in the arctic cannot be built underground because of the permifrost.

Alaska was bought for 2 cents an acre in 1867.

The Dalton Highway is also named the Haul Road

Muktuk is an eskimo word for whale blubbler.

Communicate with an Alaskan Railroad employee J.L. Toppin. Be a railroad expert and learn how the railroad is operated from Whittier to Fairbanks.
Learn about the history of the Dalton Highway and its influence on the economy. Communicate with a famous photographer and author Ben Huff, who is an expert on the Dalton.
Communicate with a famous author and college professor Jim Stevenson, who has studied animals in the norhern Alaska. Read his book and learn about the animals. Study Caribou, Moose, the Arctic Fox, and Bears.
Learn about the Iditord. Communicate with a dog kennel in Chena and communicate with Jessie Royer, an experienced musher. Read and examine the history of the race.
Glaciers and Mount McKinley
Communicate with two national park employees, Nick Racine and Lezlie Murray who are experts on tidewater glaciers. Do experiments with glacial silt and compare it to normal soil. Research Mount McKinley and learn about it.
Communicate with 20 year old Caitlyn Bowell, an eskimo who works with the Alaskan Eskimo Indian Olympics. Examine the Eskimo way of life and modern day activities.
The Discovery of Precious Metals Through Mining
Examine the impact of Gold Mining on the present day Alaskan life. Communicate with the Eldorado Mine and learn about the present and past methods of the mining process. Examine other types of mines and compare their influences.
Correspond with Bill Rodasky, the genersl manager of Arctic Caribou Inn and Tom Ehresman, the head cook for the hotel. Learn about the life in Deadhorse in a harsh environment and their lifestyle outside work hours.
Learn how fir coats are made from different animals. Itentify types of fir. Examine the animal rights debate concerning problems in the fir industry.
Life in Anchorage and Fairbanks
Research and compare the life in Anchorage and Fairbanks. Evaluate the differences.Communicate with Anchorage taxi driver and photographer Suzaan Sakeena. Correspond with Joe and Lizzie Baker, two retired teachers from northern Fairbanks. Correspond with a Debbi Cresswell, a teacher from Fairbanks to develop elementary classroom contacts.
Research how oil, natural gas, and geothermal energy is developed in Alaska. Examine the geothermal industry found in Chena. Correspond with the Hot Spring complex to learn how energy is used to produce food. Learn about the oil wells and natural gas reserves in Prudhoe Bay. Become an expert on the Alaska Pipeline.
The Changing Alaskan Culture Through the Arts
Research the impact of live entertainment and electronic communication on the changing culture of Alaska. Communicate with Alaskan country music performer, Earl Hughes and examine his influence on modern day Alaska. Evaluate the influences of electronic media such as television and radio on Alaskan's changing society.